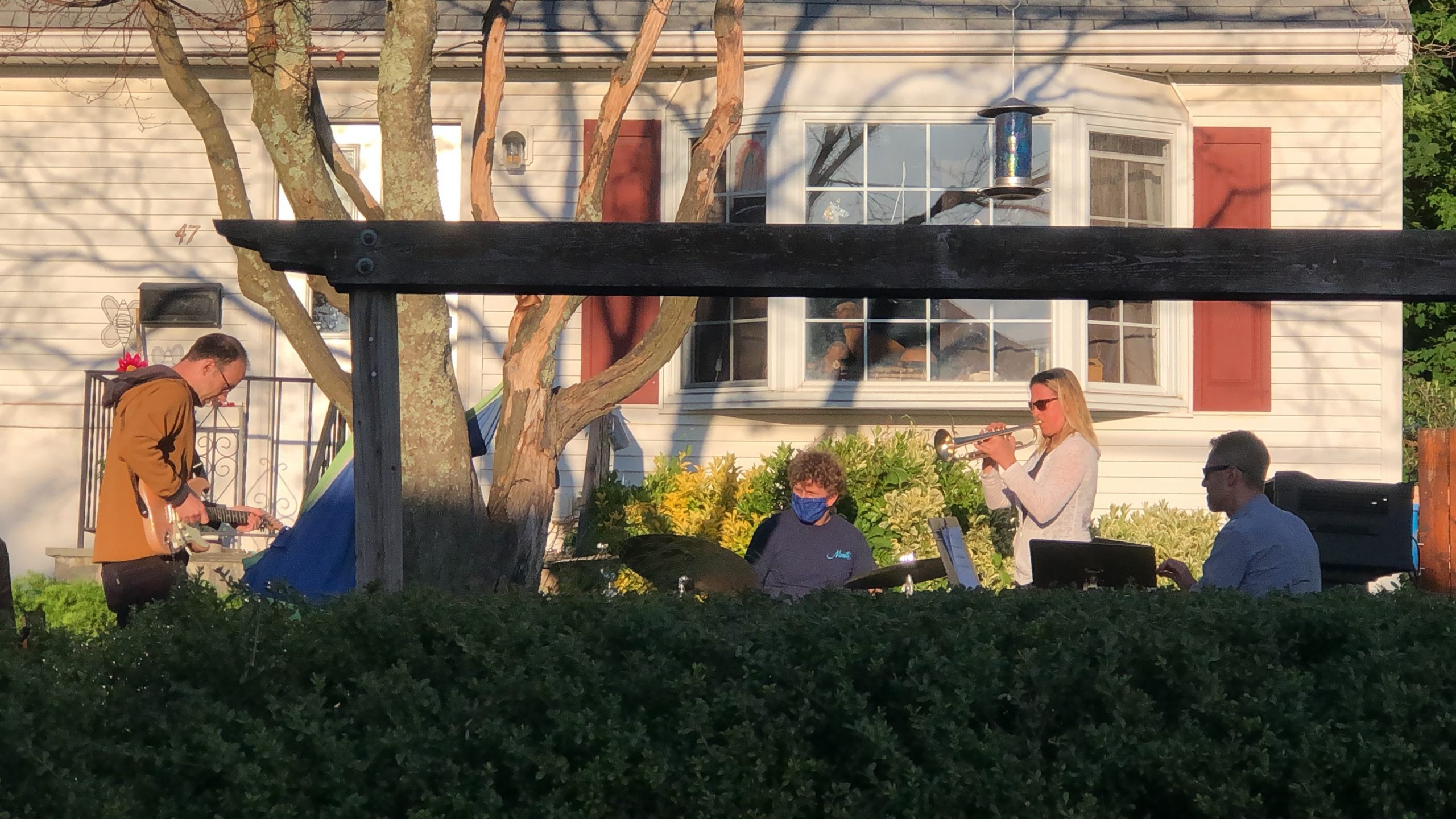 Greetings and Salutations dear mailing list of my dear family of listeners and supporters,Since we are all essentially family and yes, cousins of some sorts spinning around on a pile of dirt on this wack-a-doodle planet, all bonded together more than ever by the constant virus and viral news, I thought I better get off my butt and get you some updates that aren't second hand.How are you all doing?I am good. Busy learning, listening, writing, parenting, practicing, teaching, recording, gardening, running, yoga-ing and more.Yes, in the this incredible time, I have a new job. My former life as a professional knapsack and suitcase packer has shifted to a more home-based environment that has reaped so many exciting developments and doing things that I was forever putting off. From hanging the outdoor lights in our sweet backyard, to learning logic (music-recording software) on my speedy new computer, to recording in our fantastic new studio that my amazing Husband-drummer Jon Wikan has built to daily walks around the neighborhood block with our growing daughter Kårinna and her (our) new dog, Donny!My position at the prestigious Manhattan School of Music this year as Interim Dean and Director of Jazz Arts officially began on July 1st and and the roller coaster ride of adjusting to this new time of teaching and learning is already well on its way.As many of my incredible peers have been doing, taking our musical and educator selves online has been the new norm. From playing live on our front lawn with my neighborhood groupings, to solo effect-laden concerts and zoom workshops in my home office, to live streaming and pre-recorded concerts in our basement, it's been a wonderful ride with zero complaints. Wait, I have one complaint…We can't see or feel you, our fans. Wow! Do I ever miss your person energy! The little emoji hearts and hand claps are lovely and much appreciated, but somehow- just not the same as live YOU!
❤️👏🏼🧡👊🏼💛💪🏼💚🌟💙✨💜💫🖤🎉🤍🎊🤎
As the fall approaches and I wrap my brain around all of the care involved in doing my best at both MSM and Purchase College, I am slightly grateful that travel will not have such a big role in my plans, at least until spring. IF WE ALL WEAR MASKS and stay vigilant with our health!As I write this I am thinking of the beautiful souls in our own jazz circle who have been taken by down by Covid complications. Trumpeter Roy Okutani, Ellis Marsalis, Lee Konitz, Bucky Pizzarelli and so many more. May they rest in Peace.
I foresee more live streams and fan-connections ahead via Zoom and more, so I guess we all have to just be extra patient, and let go of the old norm of jazz clubs and festivals. Lord knows there's a lot in the old norm category in this country that needs to be purged and renewed!May the REAL work begin, and the summer soldiers be equipped with year round support and supplies! That means, please donate to any of the following to support real change!
BLM
NAACP
Girl Trek
The Bail Project
Black Girls Code
Speaking of work-time to go.Wishing all the best of health and good, healing sounds to all of you.
In the music and with heaps of gratitude for all of you support,
Ingrid
---
Here are links to the numerous shows I did over the past few months.
NOTE- The Live From our Living Room Concerts will only be up for another week so watch soon (until July, 22nd).
1. Live from our Living Room
https://www.livefromourlivingrooms.com/tickets/#performances
2. The Staycation Festival hosted by Tom Marriott
https://www.youtube.com/watch?v=Cf1KhKh8xi8&feature=emb_logo
3. Jazz YYC with Christine Jensen
https://www.youtube.com/watch?v=T-Xd42BYlOY&feature=emb_logo
4. Featured in this amazing Fundraiser with Jazz House Kids
https://www.youtube.com/watch?v=T3yWG7e7pdk&feature=emb_logo
---
Upcoming Events!
July 23rd- Workshop at the Maryland Summer Jazz – Virtual Edition! 2:30-3:45 PM EST
July 25th- Live Stream. Family band Unit 1. Kris Davis- Rhodes, Nate Radley- guitar Jon Wikan Drums- Ingrid Jensen Trumpet and effects. 8:30 LONDON Time, 3:30 EST, 12:30 PST.
July 27th- Guest with Mark Dulin and the Atlanta Trumpet Academy Facebook live sit-down and chat.

***Mark your calendars as Artemis releases their debut album on Blue Note Records. September 11/2020 ***
---